Enemy
Humanoid. Cultist.
Fight: 3. Health: 4. Evade: 4.
Damage: 1. Horror: 1.
Spawn - Graveyard.
Choose and discard 4 cards from your hand: Parley. Add Herman Collins to the victory display.
Victory 1.
The undertaker in the local graveyard has been digging strange tunnels underneath the mausoleum... but for what purpose?
Rafał Hrynkiewicz
Core Set #138. Cult of Umôrdhoth #2.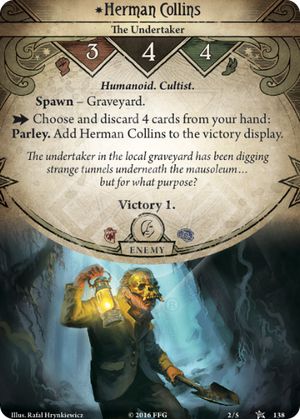 No review yet for this card.