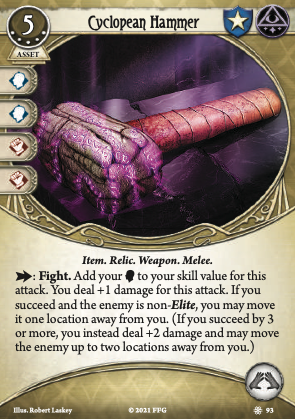 I've used the hammer to crushing effect in a playthrough of Innsmouth Conspiracy with Zoey Samaras. Hitting at 8 by default is good enough to get 2 damage reliably, but for the real magic to happen you want at least one, ideally two copies of Reliable attached (each copy gives +2 to hit) and maybe 1 or 2 stat boosts from other sources.
Once I was able to achieve this, pretty much every enemy in the game became a massive joke, as I was essentially using a lightning gun at 13-14 skill value every swing, dealing 3 damage every time, with unlimited ammo.
This freed my deck completely from having to run economy cards + extra ammo generation, usually the biggest problem for big gun guardian builds. Instead I filled my deck with encounter deck manipulation, ensuring I was always able to draw enemies from investigators around the table.
In short - too strong if you can hit 3 damage reliably.
so instead of running lightning gun and ammo cards you run this and boost cards, seems fine, 12xp is a lot. I'd say seeing the hammer as a 3 damage weapon that requires set up isn't the strong side, its the 2 damage weapon that just never misses without set up that's scary about it. —
Zerogrim · 224