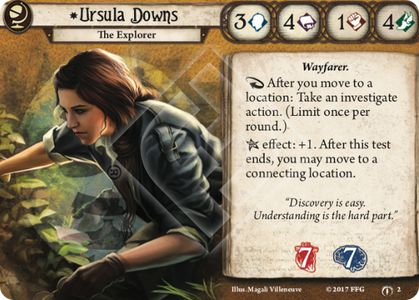 As a rule, investigators are especially good in the campaigns they arrive in. And since almost all of Ursula's reviews are from 2+ years ago, it's worth revisiting her post Return to TFA.
Moving and investigating is great. You often want to move every turn, unless you have "In the Know and active teammates. The forgotten age offers a move that doesn't seem like a move: the explore action. Multiple scenarios require you to explore over and over, with text like "when you successfully explore, reveal and move to a new location". And if Jake Williams is around, you also draw a new card. Combine him with fieldwork, and you can move to a location your group no longer needs to be, evade an odious enemy you don't want to deal with (Starting at a +6), and then come back and investigate again with Pathfinder at a cost of two actions. Just leave a clue or two around.
Over the course of a regular adventure, Ursula is going to be taking more actions, and when you take more actions in your specialty, you complete the scenario faster. You go faster, your see less of the counter deck, which means fewer obstacles.
That's why Ursula is often pitched as the best solo seeker; she can outrun her problems, adequately deal with the encounter deck, and compress essential moves into essential investigates. (When she gets pathfinder, she can turn one free action into two. The expedition journal can turn a free explore into a move and an investigate.)
Now that Rex doesn't get to clues for every investigate and Mandy has the least spend paid to make her infinite combos work, Ursula is back at the top. She's a character who will make a new player feel very effective, especially when you're busting out TFA.
(Also, if you're curious about universities in Boston that would've existed in the 1910s and offered archaeology degrees, most likely Miss Downs went to Boston University. Go Terriers.)
If you want a fun run, try Rita and Ursual in TFA. They are stupid fun! —
LivefromBenefitSt · 167
It is difficult for me to rate the Seeker investigators for all types of play but I play Ursula as a cluegetting generalist at 2p and she definitely the best Seeker for that role (Joe HM). I have been making her deck faster and faster by going with Mag Glass (and upgrading) and a lot of skill cards. She starts investigating immediately and can usually investigate 2-3 times each round while still being able to handle enemies if needed. I will also say that her style is a very fun way to play the game. There might be more effective Seekers at collecting clues faster for those that play the binary Fighter/Cluegetter decks or at 3-4p but Ursula is incredibly good at the generalist cluegetter role. —
TWWaterfalls · 549