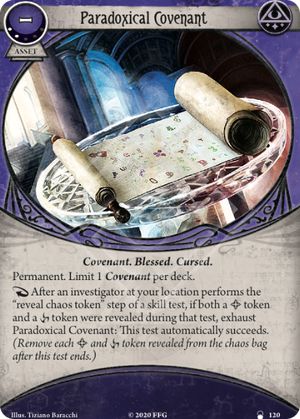 Now with Favor of the Moon and/or Favor of the Sun, this covenant is incredible. Because you reset to step 3 after every token draw, you don't need to trigger the pact(s) when you initiate the test; you can draw normally, pull a bless, and in response tap favor of the moon to plug in a curse and auto-succeed. If you're using Moon, you even net a free dollar out of it. It's Father Mateo's best friend, who can use the combo to succeed on any test almost on-demand in spite of his mediocre stats.
As a bonus, it applies to everyone at your location, making it equally valuable to any Eye of the Djinn-specced rogues or Spirit of Humanity-wielding survivors. Preston Fairmont and Calvin Wright can throw themselves at impossible tests, drop a Signum Crucis and still succeed.
Finally, the combo further stacks with Tempt Fate. Anyone can take it to thin their deck, add 3 & 3 and someone with Favor of the Moon can immediately seal the curses. 3 blesses in the bag (and a full moon pact) for completely free, better even than Keep Faith.
Mateo especially is better served with Ancient Covenant, simply because theres very few tests you can't pass with a +2. —
suika · 7650
I also think Ancient Covenant is normally better, except two cases. First case is curse-spell; you can gain both curse bonus and test success. The other case is Olive; you should resolve 2 tokens with Olive, so that you should resolve one more token even with Ancient Covenant, but Paradoxical don't. —
elkeinkrad · 151