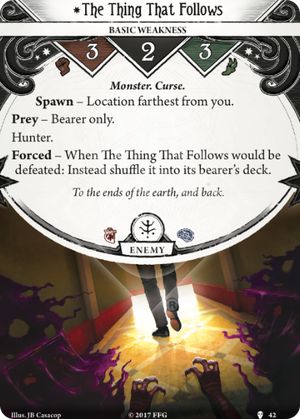 Relevant "prey" + "only" rule for reference :
If an enemy's prey instructions contain the word "only," that enemy only moves towards and engages that investigator (as if it were the only investigator in play), and ignores all other investigators while moving and engaging. Other investigators may use the engage action or card abilities to engage the enemy.
Non-bearer cannot stand on its way to get the engagement. It is also costly to help because you need an engage action.
If the bearer got eliminated/resigned from the campaign it simply stay still and everyone else can pass through.
"It is also costly to help because you need an engage action" suggests you have misunderstood something: Enemies that don't have Aloof but aren't engaged for some other reason (Prey Only, being evaded earlier in the turn, etc.) can be freely attacked by investigators in their location. So, for example, if you happen to be in the way of The Thing That Follows as it hunts its bearer, that gives you an opportunity to take a swing at it fairly cheaply. —
Thatwasademo · 44
Oh no, I really mix it up with the Aloof rule here. Now it is somewhat less annoying to get rid of! —
5argon · 2103