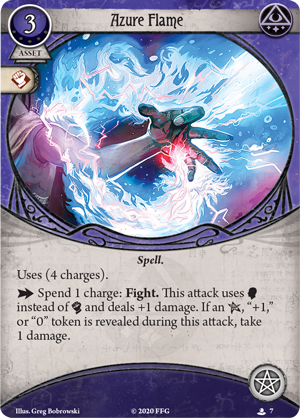 Other reviewers have rightly pointed out how this is a good card, with the backlash effect being less likely to occur on hard/expert.
However, I can't say I like the card design. Mystic have traditionally been powerhouses when they got all their spells set up, but getting there is not always that easy. I think part of the "charm" of mystics is the somewhat swingy behavior.
Before the release of this card, if you wanted to supplement Shrivelling, you had to include situational or somewhat iffy cards like Song of the Dead, Shards of the Void, Wither or Storm of Spirits. Now you can just include this. It's the equivalent of having 4x Shrivelling in your deck, and Azure Flame has all of the upgrades too. I frankly don't like this.
Eh, I see your point but I think it's balanced. It is only theoretically better on harder difficulties. Yes, the damage will trigger less often, but you will have to compensate for more punishing tokens. And not only that, symbol tokens often come with forced negative effects even if you succeed so the incentive to not risk tech like Dark Prophecy and Olive goes WAY up on hard/expert. Finally, Azure Flame's punishment is harsher than Shriveling since it deals damage and mystics don't have health like they do sanity. It's good for Jacqueline, Diana, and possibly Sister Mary, but it's really not a good pick for anyone else, especially not Mateo or Marie. —
LaRoix · 187
I understand that their swingy behavior was "charming" but as the card pool grows it was inevitable that new options for all of the classes would be printed, Mystics included. Consider that none of the situational or iffy cards you list were even in the core set. —
Yenreb · 9