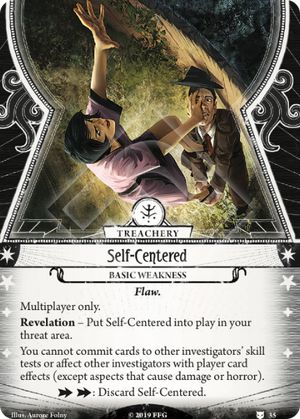 I love the thematic idea behind the card, because it's a personal failing that can hurt your team's chance of success. Still, it's easy for many decks to ignore. Some decks will be hurt a lot by it, such as [Carolyn Fern], but you can also just spend the two actions to discard.
I've seen some comments wondering how broadly "affect other investigators" applies. To me, it means that you can't target another investigator in a way that changes the game state of the investigator, specifically. You can't manipulate their cards in hand, their cards in play, their location, their resources, their clues, or their health/sanity (except to cause damage/horror since the weakness allows it.)
In this view, while you couldn't use [First Aid] targeting another investigator at your location, you could still engage an enemy which is engaging another investigator. Or, you could cancel a treachery that another investigator draws. Neither of those change the actual investigator's game state; they affect an enemy or a treachery card. If the restriction were meant to be broader than this, it would need some clarification.
Best part is that the guy in the art gets to look at her underwear —
Django · 4305