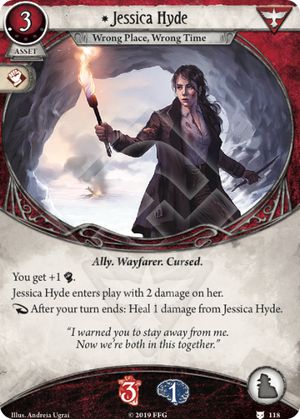 Good card. Boosts and solves Health as a potential problem.
Silas Marsh, Rita Young, Tommy Muldoon and William Yorick can all put it to worthwhile use simply for the +, although some of those can fit Beat Cop which may be significantly more useful to them.
Jessica Hyde's only problem is, other good cards! Grab Charisma and field them together! Jessica Hyde + Peter Sylvestre is a brilliant combo to enable a variety of folks to tackle threats for a veritable eternity, Jessica Hyde+Beat Cop for obvious reasons.
Other than the fight boost, I think Tommy has better options to cycle through his friends. However, he might want her for the same reason Agnes will take Sylvester: sometimes you want to take damage, but there's a little too much damage. It's a shame Mark can't take her. —
SGPrometheus · 186