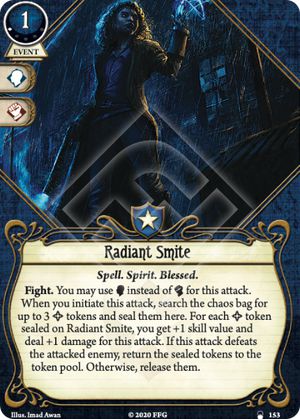 KTHOOOOM!
Who knew the biggest Nuke in the arsenal would be Jesus themed?
Fulfill the prerequisites, which requires mechanics, then reap the rewards. Beware that kiling the target will "waste the tokens", which is often just quite alright since it usually results in a big dead monster. if the target survives, the bless tokens go back to the bag, which means you can do it all over again, or reap the blesses for easier tests on the next attacks.
The attack bonus can get outright huge, a key when youre playing on Hard, and it's flexible too, you can use either or and the +buff also swings the way you like, so it's an equally good card for Roland Banks and Sister Mary, although Sister Mary will have an easier time with the tokens.
Right now in my opinion the most dependable way to get the tokens as a non-Mary is to fill the bag right up with the Book of Psalms, alternatively as a Tommy or Yorick you can pre-empt Radiant Smite with a Keep Faith right when you need it. Other then that I am not adverse to Blessed Blade as a secondary weapon. In multiplayer you should definitely ask for help on tokens if you're going for Radiant Smite.
In practice, the blessed blade is too slow as a bless generator for any purpose and the Book of Pslams too action-inefficient. The ineffectiveness of guardian bless generation outside of Mary is probably the only thing keeping Rite of Sanctification in check. Unfortunately, this means that unless you've survivor access or can depend on survivors teammates, Radiant Smite isn't feasible to field outside of Mary. —
suika · 7574