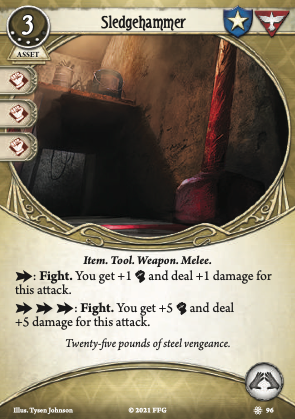 I can't match how entertaining the other review on this weapon is, but I do want to chime in and say that this doesn't actually look that bad, if a bit on the bland side. When a person building a fighting-focused deck looks at this, they (rightfully) go "meh, I can do better than +1 damage per action." That said, this is a very solid weapon for the fighter who doesn't care that much about fighting, but is still expected to do it:
Leo Anderson wants to do ally shenanigans, but definitely wouldn't mind a solid (cheap!) weapon for smashing little fellows, and he can still put his back into it for bosses.
Roland Banks (particularly Parallel Front Roland playing with Due Diligance) might feel like focusing a little more into his investigative side, but would want a damage boost to murder nuisances who get in his way.
Tommy Muldoon, if he's playing a tank role for his teammates in a multiplayer game, or is investing his time and effort into working Agency Backup.
Silas or Daniela are less likely to go for it, but it's still an option for some builds for them. Basically any time you're going to be building most of your deck around something that isn't fighting, but still have 4+ fight and would rather smash things than run from them, this is a solid choice, if you can stomach the xp cost. Like Fire Extinguisher (3), getting consistent +1 damage on an unlimited use weapon at 3 resources is a steal, and this also lets you get in on the big fights without any further investment.
On the other hand, it's 3 xp, 1 resource, and a hand slot more expensive than Taboo Machete, just to make the +1 damage unconditional and give you a second option you probably don't want to use too often. And, I guess, to give Survivors access to it. —
Thatwasademo · 41