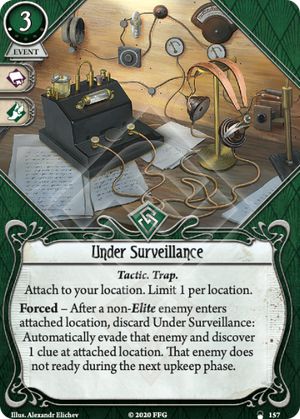 Without Chuck Fergus, this card is pretty expensive (except to Preston, Tony or parallel Skids.) With him, it gains fast and costs a buck, which is pretty good: it makes a hunter enemy lose its ability to damage your team for that turn, plus a clue!
But where this card gets very clever is in forced movement: Warning shot, or spells that move enemies mean that the foe skips two enemy phases instead of one. That means a lot of fun in TFA.
Other interesting combos is putting this with On the Hunt: your chosen foe spawns on you, is immediately evaded, and you get a clue. Leo can use this with evidence, as can Tony... or anyone who wants to give Roland Banks a fun turn.
Also combos with Alice Luxley. Skids could go On The Hunt, find an Acolyte, discover a clue and kill the Acolyte all during the Mythos phase. you can also get higher enemies by finishing them off with a fast Coup de Grace or Sneak Attack with Chuck, out just using Delilah O'Rourke's zappyboi —
Zinjanthropus · 155
I don't think it's expensive for Trish either. —
AlexP · 65