Asset
Grant.
Cost: –. XP: 4.
Permanent. Limit 1 per deck.
You have 2 additional ally slots, which can only be used to hold Miskatonic assets.
Forced - When you take damage or horror: No more than 1 of that damage/horror can be assigned to a Miskatonic asset.
Devin Koehler
Harvey Walters #32.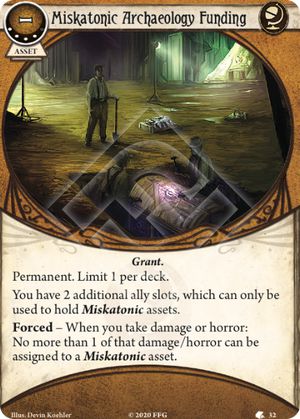 FAQ removed - double-checking provenance.
Last updated
As someone immersed in academia, I find the restriction on damaging your Miskatonic allies a hilariously realistic representation of your need to stay in your founder's good graces and demonstrate responsible stewardship of grant resources.
I mean, everyone takes some wear and tear on an expedition, but you are not going to get your grant renewed if your annual report shows you recklessly shoved the funded professors into the front lines of fighting with unholy abominations.
That OTHER intern you have with you, though--they came along on private funding. You can totally send them to investigate that noise.
You're right that it's a win for theming and absolutely hilarious to boot. —
DjMiniboss · 44