Agenda. Stage 1
Doom: 8. Clues: –
REMAIN CALM AND YOU MAY PEER INTO AN UNCERTAIN FUTURE.
THE BALANCE OF THE UNIVERSE HAS TILTED.
YOU ARE THE FULCRUM.
BE PATIENT, AND ALL WILL BE REVEALED.
Lenka Šimečková
The Circle Undone #51. The Witching Hour #2.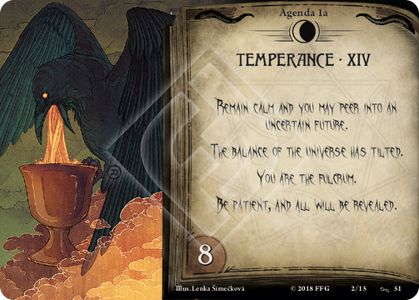 The Rite Commences - Back
Agenda
The moon reaches the height of its arc in the night sky. The trees begin to shift and twist in the breeze, as though made of something other than solid matter. Dozens of birds suddenly scatter from every treetop. In the distance, you can hear a faint melody, the pitch blending in the wind.
A cloaked figure emerges from the darkness beyond the brush, a vortex of magical energy coalescing at her feet. "Are you the ones who have been meddling with our works?" she wonders aloud, gazing at you suspiciously from underneath her thick hood. "It is no matter. You are not welcome here," she threatens. "Begone, or face the consequences."
Discard all but the last 5 cards from the encounter deck. The investigator with the most cards in his or her play area must draw the topmost Witch enemy in the encounter discard pile.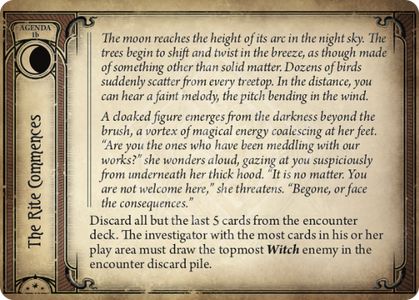 No review yet for this card.