Enemy
Humanoid. Cultist. Silver Twilight.
Fight: 3. Health: 4. Evade: 3.
Damage: 1. Horror: 1.
Spawn - Most breaches (or Silver Twilight Lodge if there are no locations in play with breaches on them).
Retaliate.
Treat Lodge Enforcer's location as if its printed text box were blank (except for Traits).
Victory 1.
Diana Martínez
In the Clutches of Chaos #309. Secrets of the Universe #5-6.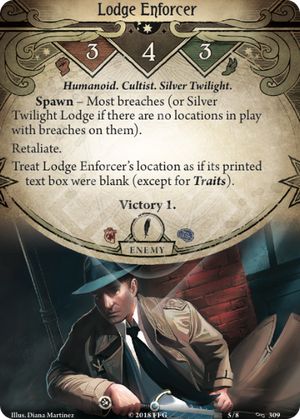 No review yet for this card.