Enemy
Ancient One. Elite.
Fight: –. Health: –. Evade: –.
Damage: 3. Horror: 3.
Azathoth is oblivious and omnipotent. It is immune to all player card effects and investigator actions, and cannot be defeated by any means.
Forced - If there is 10 or more doom on Azathoth: The Blind Idiot God rises from its throne in the ultimate void of chaos and devours the universe. (→R1)
Brian Valenzuela
Before the Black Throne #346. Before the Black Throne #36.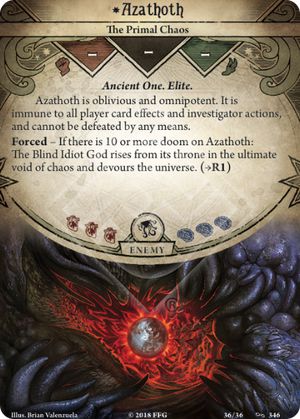 No review yet for this card.