Enemy
Servitor. Dreamlands. Conspirator. Elite.
Fight: 4. Health: 5. Evade: 4.
Damage: 2. Horror: 2.
Hunter. Retaliate
Xzharah gets +5 health and cannot be defeated by damage.
: Parley. Test or (X), where X is the strength of the abyss. If you succeed, flip this enemy over and resolve the text on its other side. If you fail, Xzharah attacks you.
Aurelian Hubert
Guardians of the Abyss #27. The Night's Usurper #12.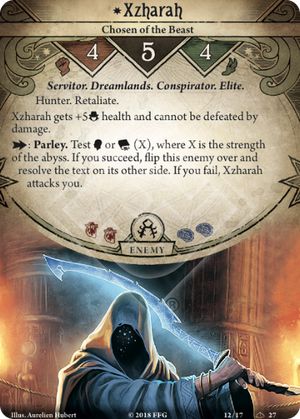 No review yet for this card.