Agenda. Stage 1
Doom: 8. Clues: –
BE TRUE TO YOURSELF, AND SEEK THE TRUTH IN OTHERS.
BALANCE THE SCALES.
YOU SHALL BE CALLED TO ACCOUNT FOR YOUR ACTIONS.
Silver Twilight enemies cannot be damaged or defeated.
Forced - When you draw a Monster enemy: Instead of spawning it, set it aside, out of play, and place 1 doom on this agenda. This effect can cause this agenda to advance.
Lenka Šimečková
The Circle Undone #66. At Death's Doorstep #2.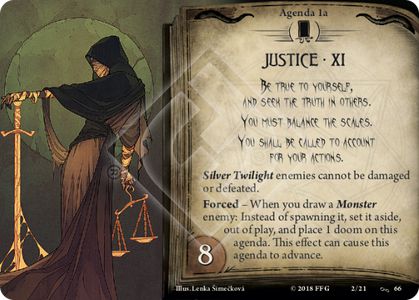 Pulled into the Shadows - Back
Agenda
You have uncovered some of the evidence pertaining to the disappearances, but the truth has yet to be unveiled.
If the investigators do not possess 3 clues as a group, they lose all of their clues.
If the investigators possess at least 3 clues as a group, they must spend 3 clues and spawn the set-aside Josef Meiger enemy at the location other than the Entry Hall that is farthest from all investigators.
Open the Campaign Guide and proceed to Interlude I: A Record of Those Lost.
Once this interlude has been resolved, remove all clues from each location in play, and advance to act 1b.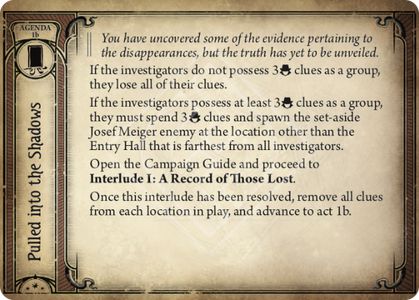 No review yet for this card.