Agenda. Stage 1
Doom: 8. Clues: –
SURRENDER YOURSELF TO THE PATH OF SACRIFICE.
CONSIDER THE GOOD OF ALL BEFORE YOU ACT.
LET GO.
Lenka Šimečková
The Wages of Sin #162. The Wages of Sin #2.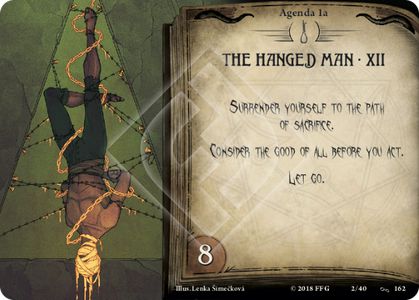 Agenda
The sobs of the dead echo throughout the woods, accompanied by murmured promises and whispered threats. But when the spectral mist blots out the sky, all turns quiet and still. Your hair stands on end, and you begin to tremble. Every fiber of your being screams flight.
The hunter has smelled the blood of its prey, and now it has come to claim your fate.
Flip each location to its Spectral side.
Put the set-aside The Spectral Watcher enemy into play at Hangman's Brook.
Shuffle the remainder of the set-aside The Watcher encounter set into the spectral encounter deck, along with the spectral discard pile.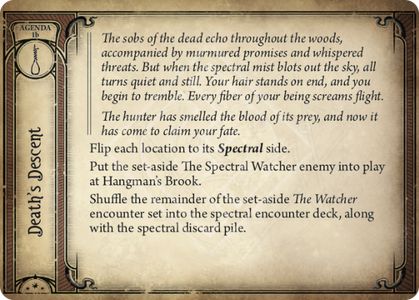 No review yet for this card.