Enemy
Monster. Mi-Go.
Fight: 3. Health: 1. Evade: 1.
Damage: –. Horror: 1.
Spawn - Location with the most clues (other than Fungus Mound).
Surge.
Forced - At the start of the enemy phase, if Mi-Go Drone is ready: Move 1 clue from Mi-Go Drone's location to Fungus Mound.
Tadas Sidlauskas
The Blob That Ate Everything #33. Mi-Go Incursion #13-15.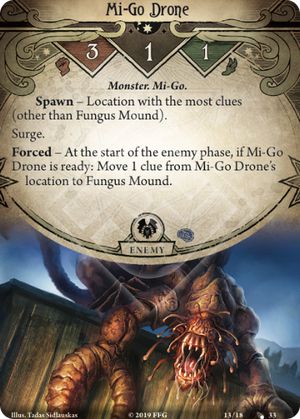 No review yet for this card.