Enemy
Creature.
Fight: 4. Health: 1. Evade: –.
Damage: 1. Horror: 0.
Spawn - Any Bayou location.
Swamp Leech cannot be evaded.
Forced - When Swamp Leech enters a non-Bayou location: Discard it.
Daniel Dulitzky
Curse of the Rougarou #23. The Bayou #24-26.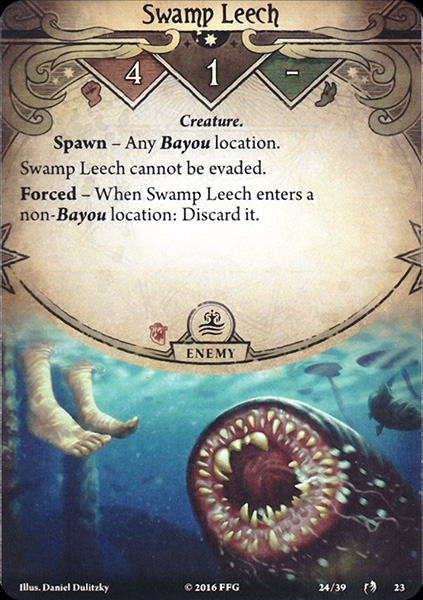 If you cast Mind Wipe on Swamp Leech, you may evade it as normal, treating its Evade value as 0.
Last updated
Another card I love to hate. It's delicious in design; you can get rid of it, if you are willing to take the slight sting of an Attack of Opportunity on a move. It's got a high enough combat that you will probably need to spend cards, ammo, charges, or some other resource to get rid of it. It's such a little thing, but it demands that you decide what you will give up. I suppose if you are playing Obfuscation or Survival Knife (2, you'll be OK, but it's still an annoying little beast.
Shortcut is my default way of defeating it. Bonus points for shortcut (2) because it's awesome on bayou locations in this scenario —
NarkasisBroon · 1