Asset. Hand x2
Item. Weapon. Firearm.
Cost: 4.
Test Icons:
Uses (5 ammo).
: Fight. You get +2 for this attack. If a +1, 0, or chaos token is revealed during this attack, this attack deals +2 damage.
Stephen Somers
Dark Side of the Moon #195.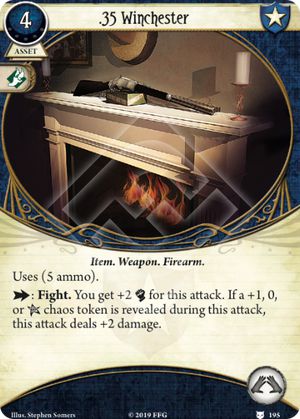 Erratum: This card's ability should read: " Spend 1 ammo: Fight…" - FAQ, v.1.7, March 2020
Last updated
So, this card has an error on it. As written, the fight action does not cost ammo. However, Matt has already confirmed in the Mythos Busters discord server that this ability should function like every other firearm, so , spend 1 ammo: Fight.
I was thinking about a deck that could make Winchester work (Jim Culver), and here are my thoughts about it:
Additional damage is unreliable if you don't have a way to fish for tokens. Even then, you are wasting too much resources and cards to make it work (Dark Prophecy for example).
The card requires 2 hands, so it requires 100% commitment. Overall, the card would be great if it said "if a token with +1 or 0 MODIFIER is revealed". This way, Jim's skulls counted as 0s would proc the effect and additional modifiers from the scenarios would work as well (e.g. X, where X is the number of doom in play with 0 doom in play).
Well, in my opinion, this card has not only one error. When comparing this one to other level 0 -cards, i have absolutely no plan at all, why on earth I should take this card in my deck. This card is just like a Song of the Dead, now that it just does not cost XP and requires 2 hands, but other than Song of the Dead, this card relies on , 0 and +1 Chaos Tokens where you will not have +1 tokens in most chaos bags at higher difficulty. Now, compared to a .45 Automatic, it has the same cost, additional ammo worth one more shot but than it requires 2 hands and it also does not do reliably more than 1 point of damage. Let's assume, you are playing TCU on standard, you will be starting out with 15 tokens (during the champaign, this might increase quite a bit) 4 of which trigger the +2 damage - chance is roughly 25% to trigger that. Chance of getting 2 damage on a .45 Automatic is 100% if you hit. Looking at the .45 Thompson, this card also requires 2 hands and hast the same amount of ammo, just it always hits for 2 damage, it costs 2 more resources though. Having said all of that, why on earth would I include this weapon over another level 0 -weapon that is already released. If you do not have any ability to trigger 0s or s on command, than you will draw your 0 when your opponent is at just 1 health remaining (at least Murphy would suggest that) - so anyway, this card is really bad.