Derived from
None. Self-made deck here.
Unleash the Power of your Codex to receive a shower of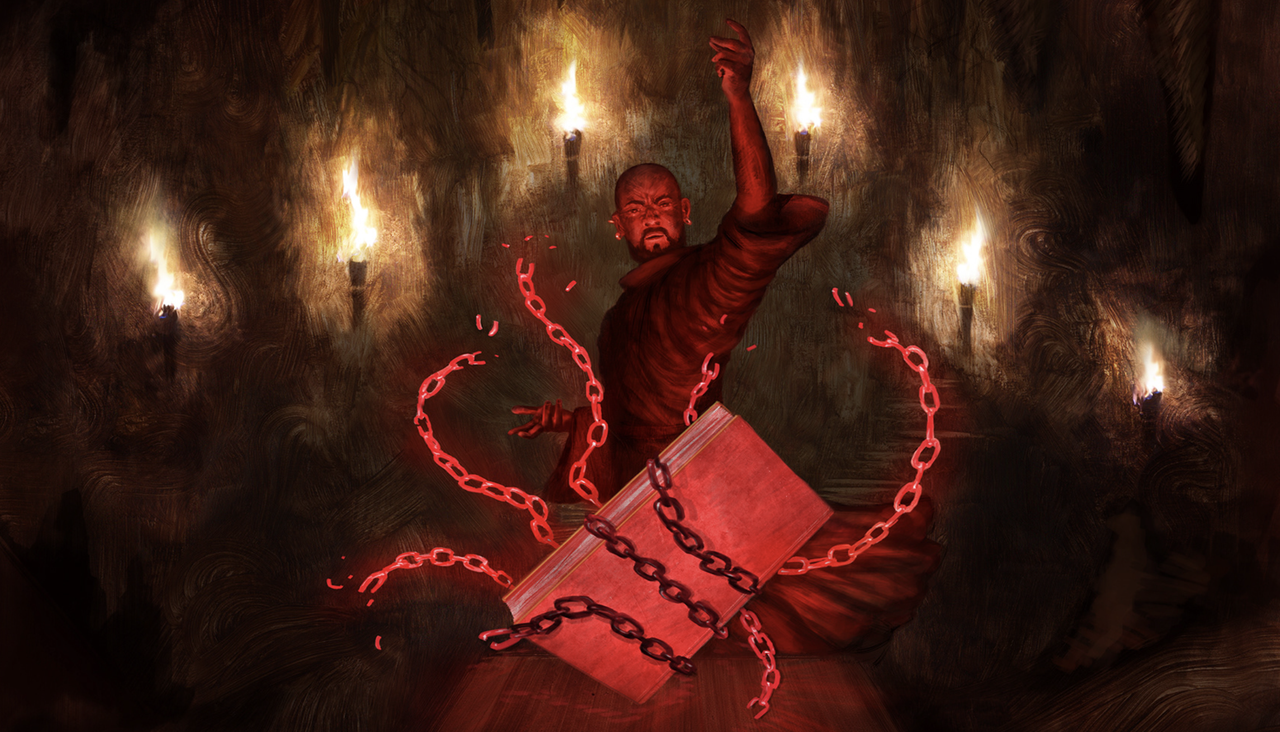 Credit: Adam S Doyle
---
Introduction
Father Mateo keeps hitting the bottom of tier lists, even with 5 additional experience. He's been one of the investigators that triggered me the least, and yet, one day, an epiphany happened. Wait, is the Codex an item?!
After the 20k Series and its success, this 30k Series will focus on the investigators that are much harder to solve. Expect some jank, some outside-of-the-box thinking and hopefully some love for the underdogs of this game.
Click here to see all the previous decks. I will keep releasing a new standalone-ready deck concept every week on Friday, so stay tuned and keep pressing the ♥ button if you want to see more!
---
This deck is released in cooperation with the French Youtube channel JCE TV, which will post really soon a video where @Blakink plays a version of this deck through a campaign. If you speak french, check it out!
---
Table of Contents:
Overview

Main Strategy

Unleash Your Codex

Token Manipulation

Card Draw

Other Cards

Upgrade Path
---
Overview:
 
Difficulty:
★★★★★
Enemy Management:
★★☆☆☆
Clue-getting:
★★★★☆
Encounter protection:
★★★☆☆
Survivability:
★★★☆☆
Economy:
★★★☆☆
Card Drawing:
★★★★☆
---
Main Strategy:
---
Unleash Your Codex:
Using your Codex guarantees success every time you use it.

Because the discard part of the ability is before Scavenging happens, you can scavenge it during the same test with no chance of failure.

Use the 's effect of 1 resource and 1 draw while you are setting up your engine.

Use the 's of an additional action when you have your main engine going.

Gaining 2 actions with discarding twice, scavenging it twice, and paying for it with the 2 Antiquary, results in 1 net action and 2 secured tests per turn. Literally any test. Each turn. No risk, not even a .

If you only need 1 test this turn, the second Scavenging, the action from your and Antiquary enables infinite recursion of the Grotesque Statue.

Forcing an will make sure that you never get the downside of Rite of Seeking and Divination.

For your engine to be fully running, you need, in order of priority:
---
Token Manipulation:
The source for my numbers is mainly taken from this script made by @foobar. Assuming this is correct, thanks a lot for this!
Revealing more tokens also significantly increases your chances to benefit from Sixth Sense and its upgrade.

A TL;DR of Sixth Sense (0) ability is that if you reveal a symbol, you may choose to investigate wherever you want instead of your location. If you have the upgrade, you investigate both places at once, choosing the lowest shroud value and resulting in 2 clues.

Another card that skyrockets in value is Voice of Ra.

---
Card Draw:
A 40-card deck based on a combo that only works with 1 card? He lost his mind! Not with that draw power.
With all this draw, you will get through your whole deck during a scenario, especially if you are not afraid to power draw the first few turns to get your draw engines going.
Other Cards:
Upgrade Path:
---
---
---
---
To create your own guides, find the template I have created here