Derived from
None. Self-made deck here.
Lemme Axe You A Question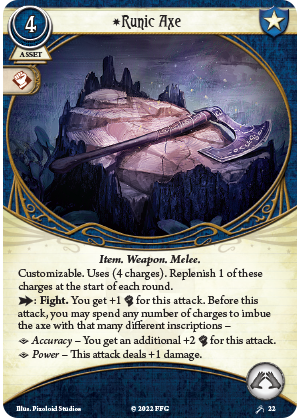 Credit: FFG
---
Introduction:
Are you tired of fighting monsters with mundane weapons that just can't seem to get the job done? Stop being the unga-bunga and get a weapon that can help you take down the largest of beasts AND uncover clues, all in the blink of an eye! Look no further, because the Runic Axe is here to save the day!
This powerful weapon is imbued with ancient runic magic, allowing it to teleport you to your desired location and engage even the shyest of monsters.
Move faster than a archeologist, chop harder than a sailor, engage more than a cultist, and find more clues than a reporter, and all at once! (Disclaimer: These statements are for illustrative purposes only. Relics Against Indescribable Horrors does not make any representation as to the accuracy of these statements and does not accept any responsibility for lost friendships)
The axe's razor-sharp edge and sturdy handle make it the perfect weapon for a newbie officer. So why wait? Splurge on the Runic Axe and give yourself the upper hand in any battle. And don't stop there - buy another one...and another one...and another one...and another one...and another one...and another one...The fun never ends!
---
Table of Contents:
---
Overview:
 
Difficulty:
★★★☆☆
Enemy Management:
★★★★☆
Clue-getting:
★★★☆☆
Encounter protection:
★★☆☆☆
Survivability:
★★★☆☆
Economy:
★★★☆☆
Card Drawing:
★★★★☆
---
Main Strategy:
---
Mulligan and Chance of Obtaining Runic Axe Turn 1:
(In case you are wondering, the chance of drawing none of the 10 cards, and then subsequently discarding all 10 of the cards is less than 1 in a million).
---
Bumping Off Your Axe:
Since Runic Axe is unique, you can't play Runic Axe while you are holding it. You have to remove it from play first.
Other Cards/Upgrades:
Upgrade Path:
---
---
---
Make Your Own Deck!
Thanks to Valentin1331 for the template. To create your own guides, find the template Valentin1331 has created here.