Derived from
None. Self-made deck here.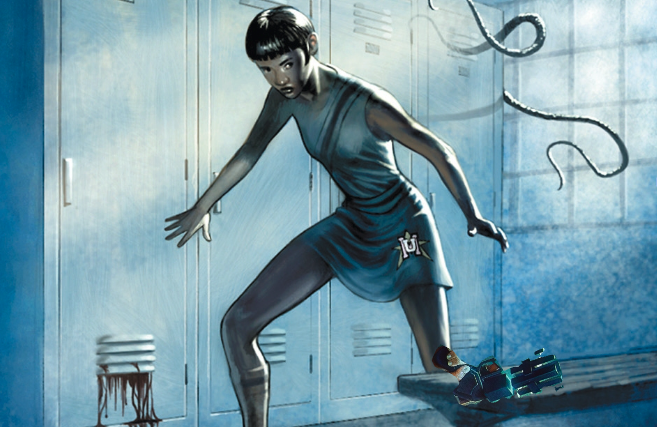 Credit: Patrick McEvoy and JB Casacop
---
Introduction
This deck is posted in collaboration with Justin from the Youtube channel PlayingBoardGames.
Click on the image to start the video.
If you don't know them already, they have tons of Arkham Horror content as well as other board games!
---
Rita has received a lot of hype with the latest releases, and I wanted to see if it was justified. She used to suffer from 2 main issues: poor access to cards that truly leverage her and a punishing weakness.
My initial intuition was that Breaking and Entering (2) would be a game changer, using her to investigate, engage, evade and deal one damage/move, but it turned out to be far more unreliable and expected. So another tool caught my eye, one that uses your for _everything, introducing the Hyperphysical Shotcaster. I was unsure about wanting to publish a deck with this card because the community has overall been quite negative about the mere existence of this card. And because I haven't done it yet with Rita, here's another Ice Pick (3) build!
---
Following the success of the 20k Series, this 30k Series will focus on the investigators that are much harder to solve. Expect some jank, some outside-of-the-box thinking and hopefully some love for the underdogs of this game.
Click here to see all the previous decks. I will keep releasing a new standalone-ready deck concept every week on Friday, so stay tuned and keep supporting the Series by pressing the ♥ button if you want to see more!
---
Table of Contents:
Overview:
 
Difficulty:
★★★☆☆
Enemy Management:
★★★★☆
Clue-getting:
★★★★☆
Encounter protection:
★★★☆☆
Survivability:
★★★★☆
Economy:
★★★☆☆
Card Drawing:
★★★☆☆
---
Main Strategy:
---
Applied Hyperphysics Understanding:
Pro tip: Every time it is possible, at the end of your turn, use the ability of the Hyperphysical Shotcaster to switch it to its Railshooter form. This will allow you to deal with potential enemies you draw during the next Mythos phase, then switch to Telescanner afterwards instead of being stuck for the whole turn.
---
Crushing Enemies Like Your Exams:
This deck has many ways of dealing with enemies. Remember that they do not all have to be killed. A non-hunter/dooming/VP enemy is as good evaded and left behind as killed using many actions, especially as a killed enemy returns once the encounter deck shuffles.
But for enemies like the KKK, you need to take matters into hands.
Pass All Your Exams:
Because consistency is key, this deck is packed with tutors/deck thinners:
---
Other Cards:
Later Upgrades:
Another Standalone-friendly version of this deck uses 10 more experience, adding notably Dirty Fighting.
---
Upgrade Path:
Disclaimer: This decklist is published in the version that I tested. The upgrade path is just one possiblto could upgrade while maintaining the best experience and value of the deck. As these decks are made to be universally good, feel free to adapt them to your campaign and change the upgrade order around based on your experience.
Thanks to @Nicodemus for taking this deck through a campaign and helping me consolidate the upgrade path.
[Link to the 0xp deck](0xp: https://arkhamdb.com/deck/view/2941305 )
---
---
[Link to the full xp deck](Full XP: https://arkhamdb.com/deck/view/2941319)
---
---
To create your own guides, find the template I have created here