Derived from
None. Self-made deck here.
.
A friend of mine once told me that the Hyperborea from Agness signature Heirloom might be a connection to Conan's homeland, so we possibly should have known SHED BE BACK! And much like Arnie's most famous role, BY CROM! Her sequel, or indeed unlikely twin, might just be even more of a thrill ride than the original!
For anyone confused, FFG semi-recently published optional alternative Character card fronts and backs for Agnes along with a print your own mini stand alone scenario and alternative signature cards. See this article for details. You can also see the alternative options on Arkhamdb when making a new deck under deck options. Here I am using the new "Parallel Agnes" front with the original deck building options to enable a fun little soak and spell recursion combo suit.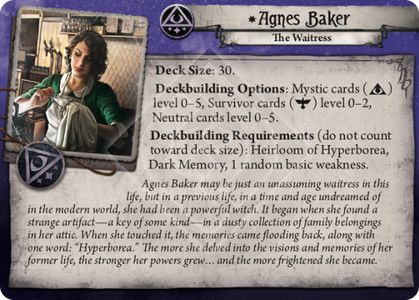 .
As with a lot of my decks this year, ive not had the time to play test it as much as I used to before making these guides, but versions of it has been through some standalones including Bad Blood. Admittedly these have all been in standard mode in multiplayer games with friends, but numerically it overshoots the chaos bag so much and packs so much soak that I expect it to be fine on hard mode. Ive also not had any chance to take it through a campaign yet, so the upgrade path and pre xp advice are very speculative. Nevertheless, I wanted to get it out there as it was an interesting theorycrafting exercise to me and the games i have had with it have been a blast.
My best bet at a campaign starter is to reset all cards you can to level 0, then Jessica Hyde to another Leather Coat, and Grotesque Statue to pretty much the card of your choice. Possibly just a Guts or another Arcane Initiate, though a Gravedigger's Shovel could be good.
-
ESPRESSO (TL:DR)
OVERVIEW:
CLUEING: ....................... Good.
ENEMY HANDLING: ...... Burst damage/soaks
ENCOUNTER PROT: ...... Very High
DRAW CONSISTENCY: .. High
CASH ENGINE: ............... High, but needed
HEALING: ....................... Soak Focussed but heals slowly
PLAYSTYLE:
ROLE: ............................. Flex - Tanky, cluer with burst damage.
COMPLEXITY: ................ High
JANK FACTOR: ............... Rude Platinumberg!
THEMATIC FEEL: ........... Warlock, Spell Weaver, Manipulator.
SLOTS:
A spell event spam and draw focussed Parallel Agnes deck aiming to maximising uses of her ability while soaking the damage (its not direct) on Jessica Hyde, or expendables like Leather Coat, and The new Heirloom of Hyperborea. All of which refresh hp or can be totally recalled by Scavenging anytime you succeed by 2 using Sixth Sense (4)'s +2, and potential shroud reduction on draws. The same tokens which can be fished out using Scavengable Grotesque Statues, all the while sniping bonus clues. Its quite the machine once you get it running man ...ok ill stop
Backpack (2) digs out the items with its 12 deep search. These can be played from the backpack (like a chump!) ... OR if we play another body slot item, the backpack, and all its contents (also items), will be discarded and available to actionlessly Scavenge into play later on. This also thins the deck so spell events reshuffled via our ability and redrawn via the on Heirloom of Hyperborea will keep cycling at an increasing speed as long as we can repeatedly soak damage on items and allies. Suddenly we have 2 micro decks circulating. A spell event deck main deck, and a pool of items in the discard to be scavenged back anytime we overshoot a Sixth Sense test.
Yet more cash and draw come from Arcane Initiate, Take Heart, Renfield, and The new Scroll of Secrets (which may as well be 3 free draw actions over 3 turns, with a chance to kill a weakness ... and once again can be Backpacked and Scavenged).
The Spell event suit shown here can be adapted to taste. I have simply chosen a decent spread of some of the better damage options and a few utility cards. Hypnotic Gaze is surprisingly effective at 1 cost when you can fish for with Grotesque Statues, especially on bosses, and Hypnotic Gaze (2) is even more powerful if you pick it up. Astral Travel cares very little when you can just Scavenge any lost item back later, and the any damage from tokens on Storm of Spirits that you didnt manage to avoid by drawing 2 tokens, can be soaked on Coats, Heirlooms (its damage from a player card), and allies.
Finally dont miss that Holy Rosary can be used as a recurrable horror soak as well as a will boost
.
-
-------<<<<<>>>>>-------
-
PERKS (Upgrades)
As I say in the intro, I have yet to try the deck in any campaign so this section is a little speculative. Take with a pinch of salt but this is my best guess. You`ll just have to put up with manual asset plays for a game or two
Priorities:
MVP 1x Backpack(2) Digs twice as deep at half the cost. This simply adds so much consistency its crucial.

MVP 2x Sixth Sense(4) Bonus clues are nice, but the +2 is crucial especially at higher difficulty levels if we are looking to succeed by 2 for Scavenging triggers.

Next Priority 1x Scavenging(2) Pure action compression by skipping all those install actions.
Then get the other Backpack(2) and Scavenging (2)s.
You should now be back at the deck as listed here.
Later Options:
Then, a few options depending a lot on group composition and playstyle, most of which are upgrades to your spell event suite since you will be spamming these over and over. Some highlights:
Also consider:
-
-------<<<<<>>>>>-------
-
DETAILED PILOTING
-
-------<<<<<>>>>>-------
-
TAKE A SEAT (Muligan)
we are basically looking for any cards that draw and 1 copy of sixthsense/scavenging. Keep any of the following that you see, and muligan the rest in hope of finding them:
Depending on the hand and the available doom on the agenda, also consider:
Unless you expect to need them early you probably wont need the spell events yet. You will get a steady supply of them later game with the Heirloom , though if you got that in the first hand, there is an argument that any spell event you can play also lets you draw so long as you also have the HP space or soak available.
-
-------<<<<<>>>>>-------
-
I NEED YOUR COAT, YOUR STATUE, AND YOUR SPELLS RECYCLED (Draw and Recursion Engines - THE JANK!)
But its the good type of jank I promise! ... ok, i dont believe any jank is bad... but this is surprisingly functional.
-
-------<<<<<>>>>>-------
-
PERCLUELATED (Investigating)
This is probably fairly obvious, not least given the details in the recursion section, but just to go over it all
-
-------<<<<<>>>>>-------
-
BREWING UP A STORM (Enemy Handling)
Again, possibly not a lot of surprises other than hypnotic gaze suddenly being in vogue
-
-------<<<<<>>>>>-------
-
HOT WATER (Encounter Protection)
-
-------<<<<<>>>>>-------
-
As always thanks for reading and well done getting all the way to the end!
If you are somehow craving yet more Parallel Agnes puns, I have left you a short song at this link
Enjoy!