Investigator
Sorcerer.
Willpower: 5. Intellect: 2. Combat: 2. Agility: 3.
Health: 6. Sanity: 8.
After 1 or more horror is placed on Agnes Baker: Deal 1 damage to an enemy at your location. (Limit once per phase.)
effect: +1 for each horror on Agnes Baker.
"I remember another life, one of sorcery and conquest."
Magali Villeneuve
Core Set #4.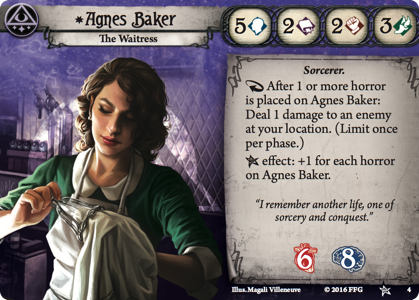 Investigator
Deck Size: 30.
Deckbuilding Options: Mystic cards () level 0-5, Survivor cards () level 0-2, Neutral cards level 0-5.
Deckbuilding Requirements (do not count toward deck size): Heirloom of Hyperborea, Dark Memory, 1 random basic weakness.
Agnes Baker may be just an unassuming waitress in this life, but in a previous life, in a time and age undreamed of in the modern world, she had been a powerful witch. It began when she found a strange artifact — a key of some kind — in a dusty collection of family belongings in her attic. When she touched it, the memories came flooding back, along with one word: "Hyperborea." The more she delved into the visions and memories of her former life, the stronger her powers grew... and the more frightened she became.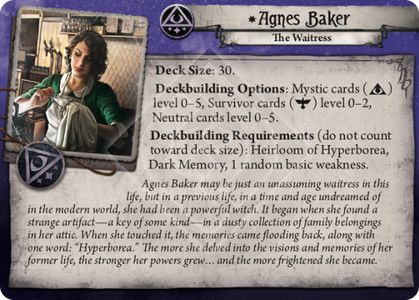 You cannot use Agnes' ability if you assign horror to an asset.
Last updated
Can I play with Agnes?
Give me the sense to wonder
To wonder if she's free
Give me a sense of wonder
If they've picked her before me
Give me the strength to hold my hand out
And pick that youthful face
Don't need xp to unlock this deck
Gonna play through it all
Break me into that bad place
[Chorus]
Can I play with Agnes?
She'd look so cool with a crystal ball
Can I play with Agnes?
Her evasion's rather small
Can I play with Agnes?
The players looked at me and laughed at me (ha ha) they said:
Can I play with Agnes?
Use blinding light, its fine, you`ll seeee
Woah, they said use blinding light you`ll see
I stared hard at the encounters
I said I'll Scry, I'll see whats below
We can prepare for this mischief
For two cards and the next
Oh then I fixed them with a freezing glance
You could see the fear in their eyes
I said you wanna know the truth son?
Well I'll show you the truth
Its an agility test needing five or higher
[Chorus]
Listen to me, said the players
[Chorus]
Can I play with Agnes?
Jesus, that is beautiful! —
lukas · 14
Can I hit the like button multiple times please? —
m3Ss1 · 1
Awesome Iron Maiden reference! —
Felagund · 441
Great. Now I gotta record a cover song and blast it everytime somebody pulls out an Agnes deck. —
H0tl1ne · 20
Thank you so much for this work of art! Up the Irons. —
humbas · 13