Investigator
Sorcerer.
Willpower: 5. Intellect: 2. Combat: 2. Agility: 3.
Health: 6. Sanity: 8.
After 1 or more horror is placed on Agnes Baker: Deal 1 damage to an enemy at your location. (Limit once per phase.)
effect: +1 for each horror on Agnes Baker.
"I remember another life, one of sorcery and conquest."
Magali Villeneuve
Core Set #4.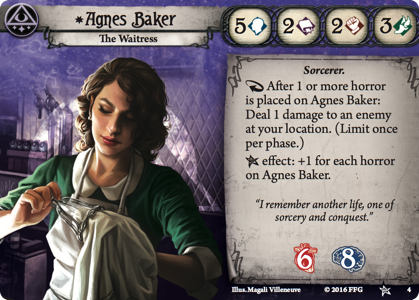 Investigator
Deck size: 30.
Deckbuilding options: Mystic cards () level 0-5, Survivor cards () level 0-2, Neutral cards level 0-5.
Deckbuilding requirements (do not count toward deck size): Heirloom of Hyperborea, Dark Memory, 1 random basic weakness.
Agnes Baker may be just an unassuming waitress in this life, but in a previous life, in a time and age undreamed of in the modern world, she had been a powerful witch. It began when she found a strange artifact — a key of some kind — in a dusty collection of family belongings in her attic. When she touched it, the memories came flooding back, along with one word: "Hyperborea." The more she delved into the visions and memories of her former life, the stronger her powers grew... and the more frightened she became.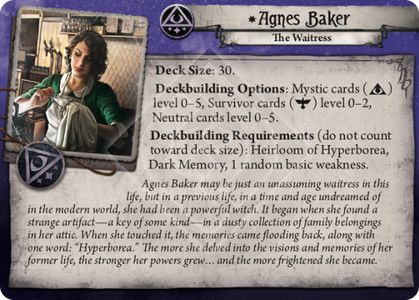 You cannot use Agnes' ability if you assign horror to an asset.
Last updated
Can I play with Agnes?
Give me the sense to wonder
To wonder if she's free
Give me a sense of wonder
If they've picked her before me
Give me the strength to hold my hand out
And pick that youthful face
Don't need xp to unlock this deck
Gonna play through it all
Break me into that bad place
[Chorus]
Can I play with Agnes?
She'd look so cool with a crystal ball
Can I play with Agnes?
Her evasion's rather small
Can I play with Agnes?
The players looked at me and laughed at me (ha ha) they said:
Can I play with Agnes?
Use blinding light, its fine, you`ll seeee
Woah, they said use blinding light you`ll see
I stared hard at the encounters
I said I'll Scry, I'll see whats below
We can prepare for this mischief
For two cards and the next
Oh then I fixed them with a freezing glance
You could see the fear in their eyes
I said you wanna know the truth son?
Well I'll show you the truth
Its an agility test needing five or higher
[Chorus]
Listen to me, said the players
[Chorus]
Can I play with Agnes?
Jesus, that is beautiful! —
lukas 14
Can I hit the like button multiple times please? —
m3Ss1 1
Awesome Iron Maiden reference! —
Felagund 356
Great. Now I gotta record a cover song and blast it everytime somebody pulls out an Agnes deck. —
H0tl1ne 12
Agnes Baker is one of the most powerful investigators out there and here's why:
First of all, with her 5 , she can withstand most of the treacheries requiring skill tests the encounter deck throws at her.
Her other stats are quite low, but the class has so many ways to hande that, that it is not really relevant in the end.
With the solved, she just needs way to mitigate her 3 other low stats. And ways there are in the class card pool, most of them Spells that can be triggered using her strongest stat .
Her 3 is already quite acceptable, considering you won't be using it much, except to sometimes, in an emergency, evade an enemy if you can't currently kill it or blind it.
Her 2 may be the most difficult stat to balance, if you're playing solo. If you're playing multiplayer, you probably want to focus Agnes on killing the damn enemies. Back to solo then. Again, cards have so many ways to mitigate that: Drawn to the Flame, Rite of Seeking, maybe use that "Look what I found!", and the neutral cards Flashlight and Perception.
Her 2 may be the easiest stat to balance, right off the bat with Shrivelling and later on with Shrivelling (3), Shrivelling (5) and Song of the Dead (2). What's more, all those Spells have a strong synergy with Agnes' ability, dealing even more damage to the enemies you're attacking.
Finally:
The ability of Agnes is very reliable, as lot of things can deal damage to Agnes: treacheries, enemy attacks, even her own Spells. She also has access to ways of mitigating the sanity hits: Fearless and Peter Sylvestre.
Her modifier is quite good too, for the same exact reason.
With the mulligan rule in this game, grabbing a Spell in your starting hand is not that difficult, and you still have the Arcane Initiate to help you out.
Here is a (solo) sample deck: arkhamdb.com