Derived from
None. Self-made deck here.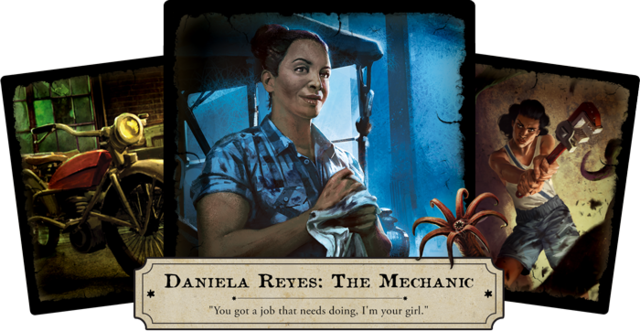 ---
Main Strategy:
Force enemies to attack with Mechanic's Wrench and Toe to Toe to trigger your and take them down quickly.
Deflect the damages of the attack to the enemies with your Trusted Aquinnah (3)
Absorb and heal the leftover Horror with Flesh Ward, Hallowed Mirror, and Cherished Keepsake to stay alive and watch enemies self destroy.
Remove Dooms from the Agenda with Burn After Reading and Fortune or Fate to gain time on the Mythos.
---
Table of Content:
• Overview
• Absorb and Deflect
• Ways to do damage
• Exile cards and remove Dooms
• Mulligan
• Upgrade Path
• Make your own Deck!
---
Overview:
Difficulty: ★★★☆☆
Enemy Management: ★★★★★
Clue-getting: ★☆☆☆☆
Encounter protection: ★★★☆☆
Survivability: ★★★★☆
Economy: ★★★☆☆
Card Drawing: ★★★☆☆
---
Deflect and Absorb:
Daniela Reyes is based on the duality: Deflect and Absorb.
Deflect:
• Daniela's passive is shooting 1 damage back at anyone fool enough to attack you (whether they chose it Or Not. Note that it has no limit, so you can over-use this if you wish.
• Guard Dog absorbs a little bit of damage and bites back 1 damage.
•• These 2 little tricks can already bring down a Ghoul Minion without spending an action.
• And Aquinnah is the master of deflection. The lvl 3 allows enemies to hit themselves when the lvl 1 needs 2 enemies at the same location to work.
•• This Deck is so reliant on Aquinnah that we need to maintain her as much as possible. To do so, we attach 2 Trusted on her and allow her to be used twice in a turn with Inspiring Presence. Hallowed Mirror can also be used to heal her.
Absorb:
• Flesh Ward may be a little bit expensive, but it is the equivalent of 5 heals in 1 action. It is mainly used to absorb the leftover Horror after using Aquinnah.
• Bandages can be used on Guard Dog for more uses as well as yourself if needed.
• Trusted x2 on Aquinnah allows her to absorb 2 damages on top of her 6 uses.
•• Note that if you use Calling in Favors on an Ally that has 2 copies of Trusted, they will be discarded.
• Hallowed Mirror that brings a lot of flexibility as it can be used both on Aquinnah and on you.
• Cherished Keepsake x2 that absorbs 8 Horror for 2 actions.
---
Ways to make damage:
Daniela Reyes is surprising by the amount of damage she can do in a single round.
You often need an enemy attack to be active, and provoking these attacks without your Mechanic's Wrench is counterproductive because of our . So while waiting for enemies to attack you, you can either Get Clues or start hitting enemies.
• Enchanted Blade is perfect here as it fills in 2 blank spots: the time before you find Mechanic's Wrench and the moments when you cannot afford enemies to attack you because they are not suited (for example enemies that deal only horror like Spoiler Carnavale of Horrors).
• Later, we upgrade into the Fire Extinguisher as it doesn't have charges and is also a nice "panic button" that you can bring back with Resourceful if needed.
• Brute Force is also a nice way to deal with bigger enemies. It is the main target for Resourceful. The only problem is that it may be hard to land the 3 damages without Overpower or Daring to support.
• Toe to Toe that deals 2 damage, 3 counting your . The biggest advantage of this card is between the lines though: the auto succeed. Use this to commit Resourceful and Inspiring Presence to never waste them.
•• The combo with Inspiring Presence is even better as it allows you to deal 3 damage, use Aquinnah to deflect the attack's damage to any enemy, ready and heal the horror from Aquinnah. In 1 action, 0 resources, you will often do 6 damages with Vicious Blow without pulling a token and while recurring Brute Force for the next blow.
• Mechanic's Wrench, of course, triggers an attack against yourself for a testless damage, push back the damage with Aquinnah and hit hard with the Wrench right after. This technique is perfect for dealing with smaller enemies.
---
Exile cards and remove Dooms:
This Deck relies on Déjà Vu to exile cards and bring them back for free.
Early-stage:
When you have 1 copy of Déjà Vu, you can replace 3 level 1 card for free between each scenario.
• These will mainly be used for your Cherished Keepsake (1) that soaks the leftover Horror and Flare that brings Aquinnah for only 2 resources.
•• You can choose to exile the Cherished Keepsake or replace it with the second one when it soaked 3 horrors so that you do not have to exile it.
•• Flare exiles only if it successfully finds an Ally, otherwise it goes to your discard pile.
Late campaign:
The Exile gimmick really starts to be fun when you purchase the second Déjà Vu. You can now repurchase lvl 2 cards for free and spend up to 6xp per scenario for free on exiled cards.
• Burn After Reading turns your unused Backpack (2) into 2 clues and 1 Doom removal!
• Fortune or Fate also removes a Doom from a Scenario Card (the Agenda being one of them), and the second one can be used for Burn After Reading as it is Max 1 per game.
• Altogether, for a budget of 2 Déjà Vu so 6xp, you can remove 2 Dooms, discover 2 clues and use 1 Cherished Keepsake or 1 Flare.
• And at this point, the Deck reached its upgrade limit anyway, so if you still have scenarios to play, you can keep on exiling even if you exceed 6 pips and purchase back with the XP gained at the end of each scenario.
Warning! In campaign mode, Déjà Vu is useless during the last scenario of a campaign as you will not purchase any cards after it. And as it takes approximately 2 scenarios to make Déjà Vu profitable (5xp for 3 gain per scenario), do not buy Déjà Vu if you have 3 or fewer scenarios left to play with this character!
---
Upgrade Path:
• Déjà Vu x1 - 5xp - Total 5xp
• Hallowed Mirror x1 + Bandages x1 Cherished Keepsake x2 - 2xp - Total 7xp
•• Trade the slow and unreliable heal of the Hallowed Mirror for soaks that will last you long enough to draw the second copy.
• Guard Dog x2 Aquinnah (3) x2 - 6xp - Total 13xp
•• You can start with buying Aquinnah, but Guard Dog is already doing quite good at the very beginning. From here, the fun starts for you.
• Flesh Ward x2 Flare x2 - 2xp - Total 15xp
•• With your 2 Cherished Keepsake, you do not need to soak that much horror anymore. Also Flare brings Aquinnah earlier and lets her deflect damages form the start. Flare also makes Aquinnah cheaper.
• Daring Brute Force x2 - 2xp - Total 17xp
•• Same amount of bonus, 2 more damage if you succeed by 2 or more. That's a great side weapon.
• Prepared for the Worst x2 Backpack x2 - 4xp - Total 21xp
•• Backpack searches deeper for your weapon and brings on top of that your Mechanic's Wrench, Hallowed Mirror if still here, your Cherished Keepsake.
• Déjà Vu - 5xp - Total 26xp [OPTIONAL, see Warning above]
• Overpower x2 Burn After Reading x2 - 2xp - Total 28xp
•• Turn your unused cards into testless clues and Doom removal.
• Enchanted Blade x2 Fire Extinguisher x1 + Hallowed Mirror x1 - 3xp - Total 31xp
•• The Hallowed Mirror brings a nice heal that can be applied to Aquinnah for more uses or on yourself. The Fire Extinguisher is a great overall weapon with a "panic button".
••Get back Hallowed Mirror for free by exiling one copy of Enchanted Blade with Burn After Reading and filling up the empty slot at the end of the scenario with Hallowed Mirror.
• OR Close Call instead of Hallowed Mirror for the reasons listed below in Make your own Deck.
• OR Bangle of Jinxes if you feel like taking away Overpower and Daring left the deck without a clear way to support Brute Force to land 3 damages.
• Relic Hunter - 3xp - Total 34xp
• Emergency Cache x2 Fortune or Fate x2 - 4xp - Total 38xp
•• At this point, your Deck is relatively cheap anyway, so better use your actions to get 1 doom out than 3 useless resources!
Here is the Full XP version of this Deck.
---
Make your own deck!
• Sledgehammer is good in Daniela because you're more or less sure to land your attacks and it takes 2 . You do not have much to do during your turn anyway, so it can be a good way to deal with bigger enemies. The reason why I didn't take it, though, is that it requires Bandolier to play the Mechanic's Wrench too, and that is 4 deck slots and more set up required.
•• The Sledgehammer (4) is less interesting as it takes 3 and so you cannot move and fight in the same turn.
• Machete x2 is also an excellent option for a primary weapon. However, it is a bit anti-synergetic as you would mainly use your weapon when you have multiple enemies to deal with, to decrease the amount of damage on you and because you can only use Aquinnah once. And this situation is precisely when Machete does not work.
• Survival Knife was the first thought for Daniela Reyes, but unfortunately, after trying it out, it turned out really unhelpful as it has 2 restrictions: you need to take at least 1 damage, and you need to be attacked during the Enemy Phase. As Daniela Reyes is mostly redirecting all the damage to the attacker and gets attacked mostly during the Investigator Phase, Survival Knife ends up being useless most of the time.
• If you feel like you're not tanky enough while upgrading, you can still keep Flesh Ward instead of Resourceful, for example. Though it costs extra resources so you may need to keep Emergency Cache.
• It is also possible to keep Guard Dog and purchase a Charisma to deal better with higher counts of enemies. It can be nice then to add Calling in Favors to recharge your Doggos/Forgotten Daughters.
• Peter Sylvestre (2) is, of course, excellent to absorb all the leftover Horror and help you against Treachery cards with his static boosts. I did not go in this direction as I wanted to explore the Déjà Vu mechanic, and I thought I used the help of the Big Man on Campus enough, but taking him with you is probably even more efficient.
• There is a completely different deck that is oriented with the classical combo Peter Sylvestre + Jessica Hyde + Spirit of Humanity. On top of this, Signum Crucis that you can use on high shroud locations, Keep Faith, Hand of Fate, Rite of Sanctification for economy, and especially Book of Psalms to heal all the extra Horror. Click here for an example of such deck.
•• This Deck will not perform as well as Tommy Muldoon, but it will still be quite good at what it does.
• Special bonus for Close Call. It is still situational, but this can be interesting in Daniela Reyes. You trigger a attack with your Mechanic's Wrench, evade with your and then shuffle the enemy back to the Encounter Deck. What's best is that you don't even have to wait for your turn or be engaged with an enemy to do it.
•• It costs you an attack and 2 resources to send an enemy back into the Encounter Deck without spending a single action. Good to free your at the beginning of their turn to let them investigate at will, to speed up a late scenario temple run, to get rid of a Cultist full of doom, or an annoying Conglomeration of Spheres that steals your weapons without giving you a single Victory Point for this.
If you are going for a Standalone, you can use the Full XP Version and take off the 2 copies of Déjà Vu. Removing 2 Dooms from the Agenda will make any Standalone significantly easier.
---
Let me know in the comments your successes and suggestions on how to play The Mechanic and enjoy the Deck!